Your cart is currently empty
Heavy .44 Magnum Pistol and Handgun Ammo
Heavy .44 Magnum Ammo
270 gr. J.F.N. @ 1,450 fps/M.E. 1,260 ft-lbs
50 Round Box
Item 4C
Big Game up to 800 lbs.
Item 4C (270gr. JFN) is designed to mushroom at handgun and rifle velocities. It will penetrate about 18 to 20 inches in muscle and bone and is a great bullet for hunting small to average bear or hogs
You'll note me below velocities from over the counter revolvers and rifles.
➤ 1452 fps -- Ruger Super Blackhawk 6-inch barrel
➤ 1460 fps -- Ruger Redhawk 5.5-inch barrel
➤ 1802 fps -- Marlin 1894 18.5-inch barrel
Item 4C is recommended for use in any and all steel revolvers and rifles on today's market. It is NOT suitable for use in scandium or aluminum alloy revolvers.
Item 4C - Exterior Ballistics Charts for several Muzzle Velocities
_______________________________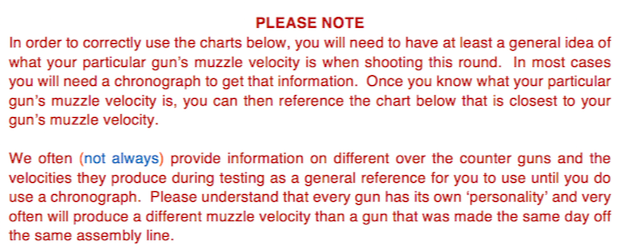 Muzzle Velocity @ 1900 fps for Item 4C
Muzzle Velocity @ 1800 fps for Item 4C
Muzzle Velocity @ 1700 fps for Item 4C
Muzzle Velocity @ 1600 fps for Item 4C
Muzzle Velocity @ 1500 fps for Item 4C
Muzzle Velocity @ 1400 fps for Item 4C
Muzzle Velocity @ 1300 fps for Item 4C
Muzzle Velocity @ 1200 fps for Item 4C
Field Proven pistol and handgun ammo. Maximum firepower ammo. Best ammunition for pistols and handguns for sale. Buffalo Bore. Strictly big bore. Strictly Business.
Attention!
You must be 18 or older to order ammunition. Ammunition must ship UPS ground. Due to Department of Transportation regulations, we cannot accept returns on Ammunition. Make sure to use the correct ammunition in your gun. Check local laws before ordering.
This ammo shoots nice groups from my Ruger 44 Mag Carbine.
I'd like to begin by saying thank you to buffalo bore for a quality product that has performed as advertised. I shot 1 big NE Ohio doe at 40 yards straight on chest shot and 1 250lb plus mature buck quartering towards me at about 35 yards this week. Both shots passed through with very heavy blood trail and large entry wounds. Exit wounds were relatively small. Opposite of the typical hollowpoint ammo I've used. Both deer took 2 hops and died. Internal damage was substantial. That being said this ammo out of my .44 Henry Big Boy shot about 1.5in pattern at 50 yards. Hornady leverevolution will shoot cloverleaf patterns at this range. But after losing 2 deer and never once having a pass-through I was done with Hornady and the less than optimal blood trails and real-world knockdown power. Only thing I wish was better is the price. At nearly 2 bucks a shot after shipping it's a little steep but that complaint takes a back seat to a positive experience.
This is the best ammo. I use it in my Ruger 44 magnum Carbine for deer and bear and have shot deer at 120 yards with the bullet going all the way through. I have dropped several Black bear in there tracks. The perfect brush to open field round very accurate.
Wow! Now this is a woods round for the 44 magnum. When you are in bear country and can't carry a rifle, I strongly suggest this 270 grain 44 magnum. I did a test with other rounds ranging from 240 grain Mag Tech through various 300 grainers. Of the seven rounds tested, the Buffalo Bore had the most penetration, the size of the opening (this was into wet newspaper) was the largest, and the recovered bullet had the most mass. It doesn't get any better. Accuracy is great and recoil is manageable in my 5" Smith