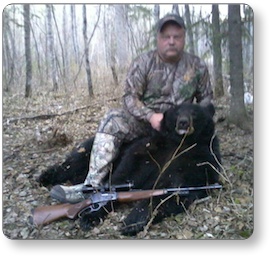 Tim,
Here is a picture of a Saskatchewan Black Bear taken with your ammo last week!
Your more than welcome to post it on your website if you like!
This Saskatchewan Black Bear was taken with a Custom .444 Marlin using Buffalo Bore Ammunition. 335 gr L.F.N. GC (2025 fps).
The bear dropped in it's tracks! A single shot into the chest turned the light switch off instantly! I had a lot of faith and confidence in this cartridge and particular ammunition! The bear was on a slight angle which allowed the hard cast bullet to exit the ribs near the hind quarter. I have absolutely no doubt in the performance of this ammunition! Excellent penetration with tremendous stopping power making it a very reliable choice for big game hunting including bears.
Keep up the great work!
Buffalo Bore ammo is a favorite!
Thank You,
​Greg Ziolkowski